Modeled mechanical dungeon door, before sound - angle 1.

...and now rendered in game with sound added.

With a solid foundation as lead sound designer for a number of successful video games over the past decade, I have a firm grasp of the wide range of skill sets required  that extend substantially beyond mere content creation. Thoroughly understanding the interactive nature of a game and the logic utilized to attain that dynamic is necessary for all the components to mesh properly. Although my studio may not  be onsite my physical remoteness in no way hampers my ability to work effectively as a project leader. I work very closely with artists, programmers, writers and other team members daily to generate intelligent and creative solutions to whatever the audio challenge at hand may be. Furthermore the process often works in reverse, as I'm not always content sitting at the end of the chain. Often a sound concept in my head will lead to my suggesting something to the art team or coders and this brainstorming always holds as its goal the objective of making a better  and more entertaining title.

My surround sound studio is equipped and designed for the creation of 3D audio - vital for most games currently being developed. In addition to the many audio editing packages I utilize, I am also familiar with and fluent using middleware solutions such as Fmod in order to take as much pressure off the programming team as is possible.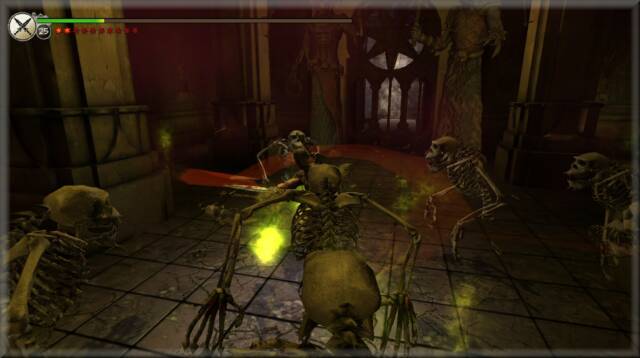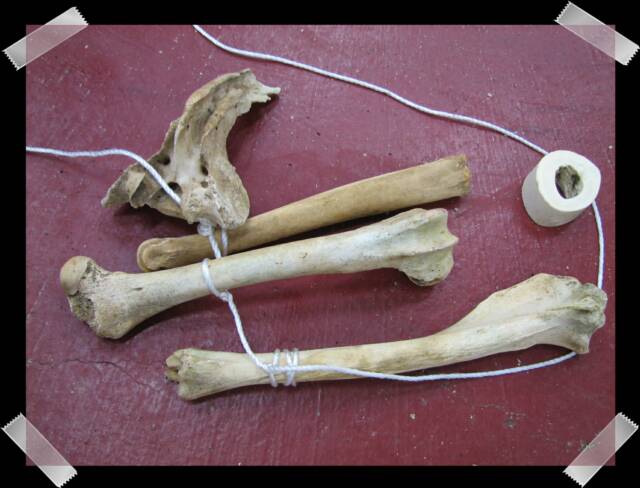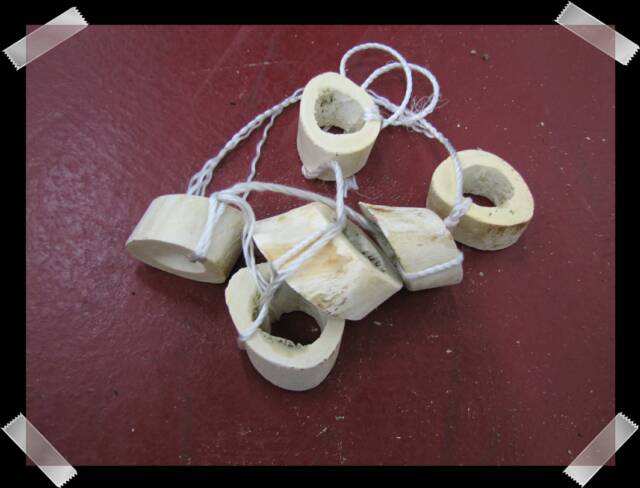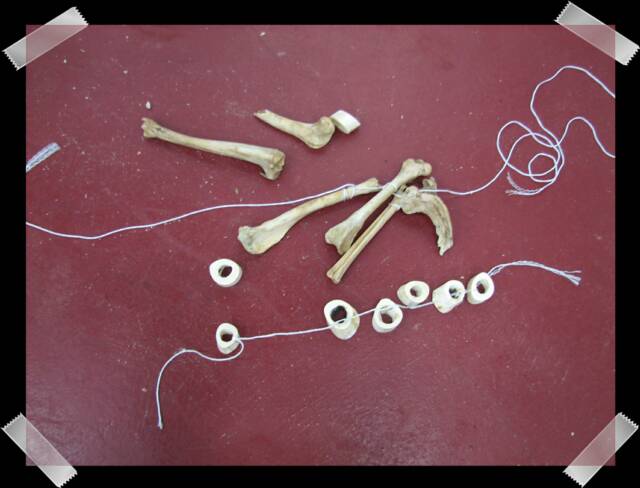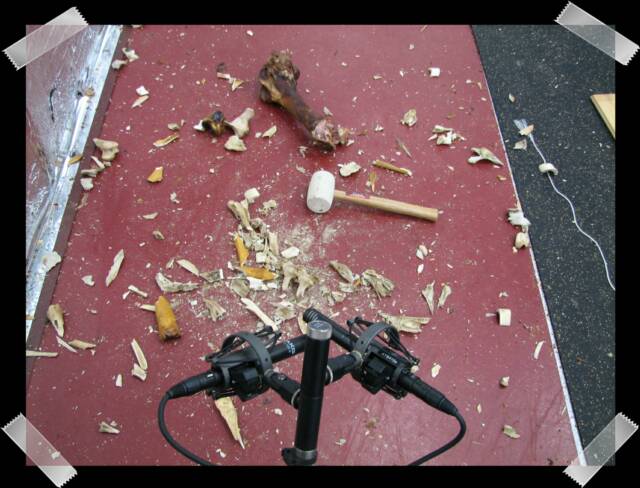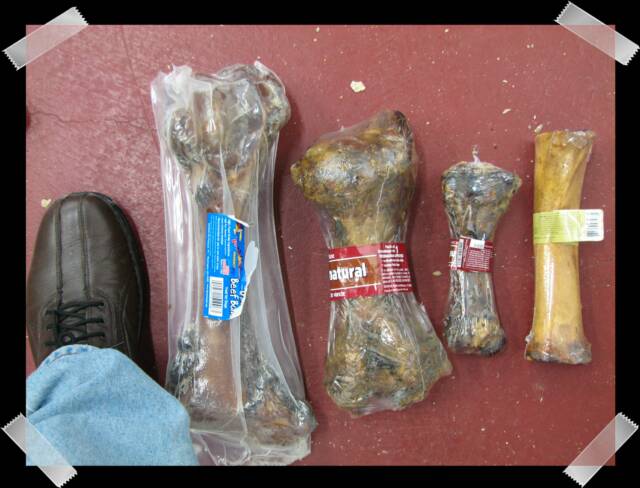 In this hack & slash title the player is attacked by swaths of skeletal creatures. When these monsters are struck by a sword or impact a solid surface such as a wall, they shatter and disintegrate into their individual bones which then bounce and collide about the room. Unable to find exactly what I needed using libraries led me to bust out the microphones.

Step one - Find some bones. Back at the supermarket I bought a rack of ribs. After stuffing myself like a king (hey, it was a write off) I cleaned the bones and baked them in the oven to dry them out. Although they were somewhat helpful these bones provided too small a sound, and because they were all shaped similarly I wasn't getting enough variation.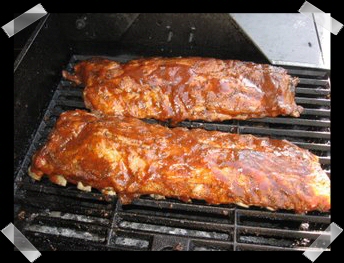 Step two - Find more bones. Bigger bones and lots of shapes! My dear friend David Jones stepped up to the plate this time when he recalled coming across a partial deer skeleton near his home. With gentle prodding I convinced him to seek them out for me, which he did late one night.

Step three - Play with bones. I tied bones together to make it easier for me to throw them around, jangle them, etc., and when I tossed them they would land on the ground as a group. It also made picking them up much easier. I was amazed at the variety of sounds different bones make. Some sounded like ceramic, others were very hollow, and still other sounded almost like wood. No wonder bones have been used for windchimes and other musical instruments for thousands of years! I was getting closer to the results I needed, but things still sounded too light. I needed a bit more weight.

Step four - Bring in the heavyweights. A trip to the pet store gave me large cow bones, the Great Dane satisfying kind I needed to round things out. I continued to throw, roll, drop, twirl, heave, juggle, smash, crunch, hammer, manhandle, and generally destroy the bones until I had a huge palette of sound bites to start editing and mixing in the digital domain.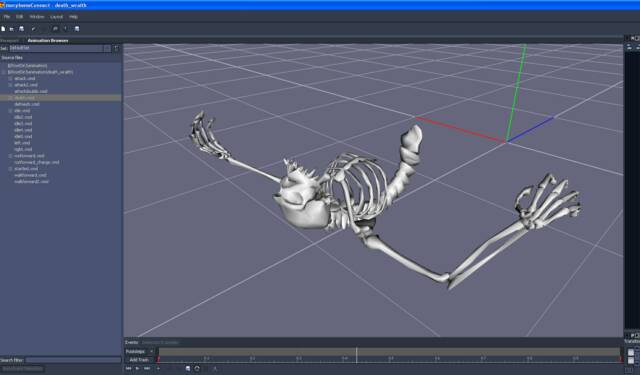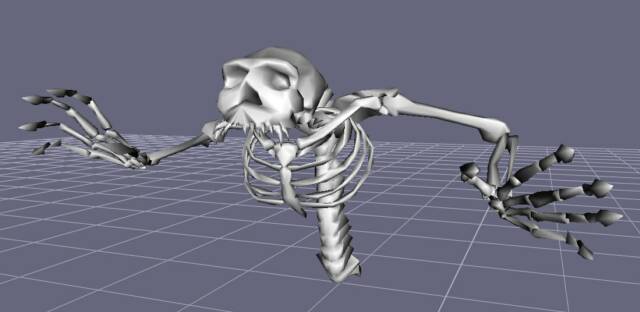 Finally, the shattering skeletons in the context of an epic battle (audio only - no video). Here they are a bit hotter in the mix just for sake of this example.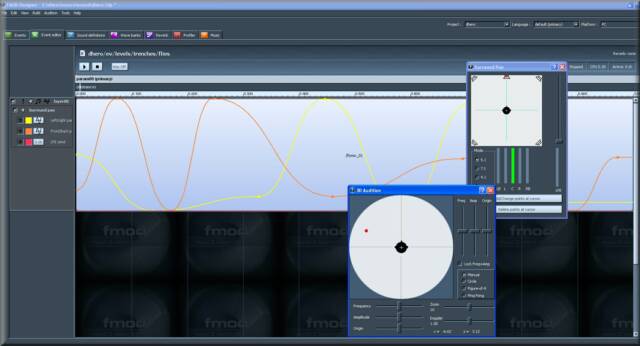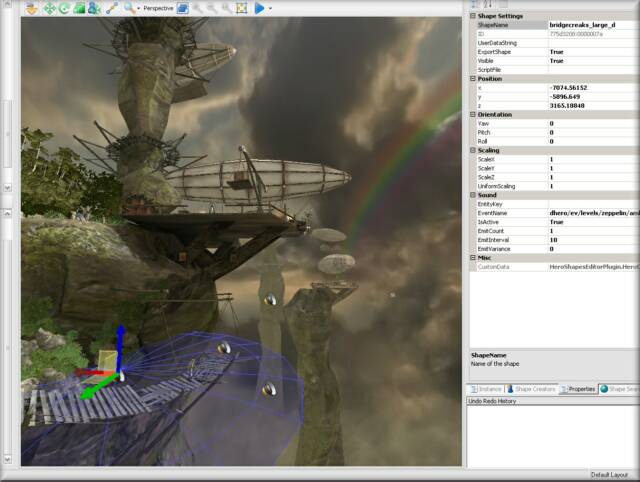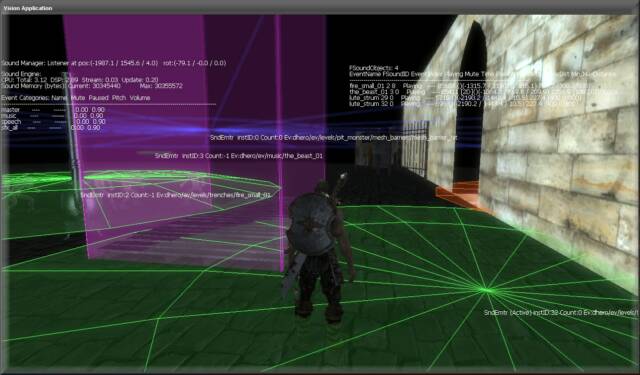 Creating surround effects in Fmod.

Using Vforge in conjunction with Fmod to place sound emiiters within a three dimensional environment.

The aforementioned tools with fantastic proprietary coding (hats off to Tony Delibero!) that allows for real time in-game editing of reverb nodes, occlusion behavior, and general distance parameters.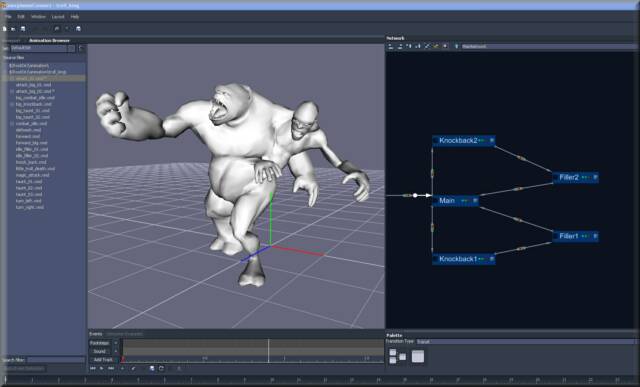 Tagging animation keyframes to synchronize sound effects.

Modeled mechanical dungeon door, before sound - angle 2.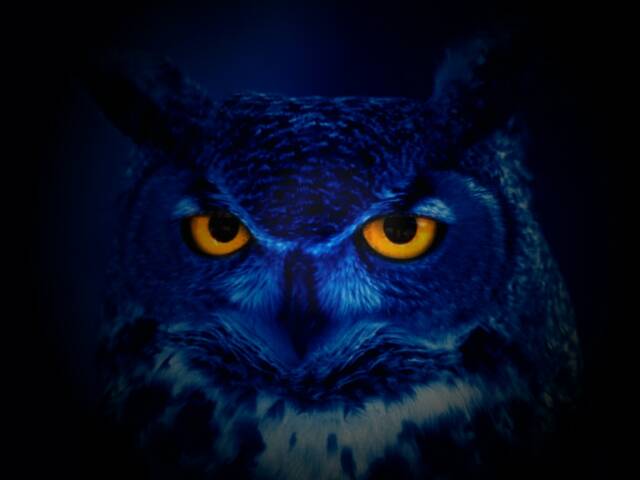 ...........................................................................

...........................................................................

...........................................................................